Cascade Road WalMart

Opened October 2013 | Employs 300.
Cascade Road @ I-285 by the Home Depot with an exit on Fairburn Road.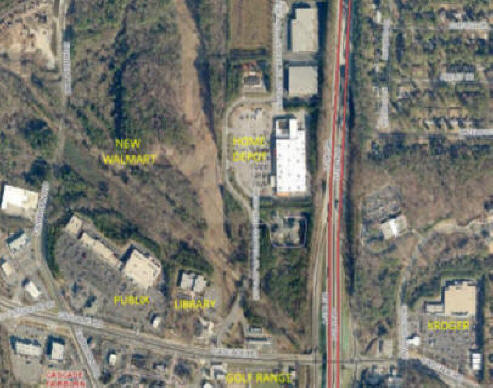 ---
Zoning History

Cascade Super WalMart did indeed come...

After losing the rezoning vote the developer sued Fulton County with the argument that this was a down-zoning from office/industrial to commercial and it should not have been denied.

The judged remanded the case back to Fulton County in March of 2006 instructing the Fulton Commissioners that they rezone the property and furthermore the size WalMart they zone it for has to be large enough to be economically viable. WalMart initially wanted a 225,00 sq ft building but proposed a 185,000 sq foot Super WalMart in response to community concerns.

The Fulton Commission approved the zoning, but limited the size to 55,000 sq ft less than a third of the size WalMart and the developer proposed. The developer filed a motion of contempt to be heard in January of 2006. The county lost the case in May of 2006 and the judge ordered the size restrictions be removed from the zoning.

Fulton County subsequently appealed the decision to the Georgia State Supreme Court. The court declined to hear the case in June of 2006 meaning that WalMart may proceed with construction of the Cascade Super WalMart. Word is construction will start in 2007. Neither WalMart nor the developer have made public statements or met with the community since the ruling. The project will still be bound by the construction covenants of the Cascade Overlay District.

Community Wins another battle in the war against WalMart...

I

n August 2004 t

he Fulton County Commissioners Voted 6-1 to deny the rezoning to allow a Cascade Super WalMart. This is the day after WalMart announced that they were withdrawing plans at the location.

Community Zoning Board Meeting (July 21, 2003)

The Community Zoning Board voted 4-0 and recommended that the Board of Commissioners deny the request for the rezoning. The case will now be forwarded to the Board of Commissioners for their vote on August 4. Many community residents came out to defend their quality of life.
          
							Photos By Jackie Foster-Rice